Leilani's 2006 letters from Kenya
–back to index–
4/10/2006
Ok. I know it's been FOREVER since my last email. I apologize. But! You'll all be happy to know that the only reason that I haven't emailed is because I've been SO BUSY! It's just wonderful to be this busy. It feels so good to know that I could be doing a ka-zillion different things right now.
Alas, I've put off emailing for quite a while now… meaning that this will be a) probably quite long b) too short for a thorough play-by-play of each event and c) probably confusing. So I apologize. For being late, for not keeping you all up to date, and for a hurriedly-written mass email.
Please do know though, that I appreciate ALL your emails. In addition to keeping my spirits up you've all been wonderful keeping me up-to-date of people's whereabouts, successes, hardships and endeavors. I look forward to being able to catch up with each of you at some point in the near future. Especially as I'll be headed back to the US come the end of July (maybe not permanently, but long enough).
So here goes… all the way back to…..
November
Thanksgiving/Constitutional Referendum -
So our Turkey day events turned out to be quite the holiday season. Due to the Constitutional Referendum here (the president proposed a new constitution with many worrying sections - everyone here was either sided with the 'Oranges' or 'Bananas'. We Peace Corps volunteers were unable to actually move around the whole week of the voting, canceling Turkey Day plans in Nairobi and any long trips. As my physical area is well guarded and in a more-quiet part of the city, one of my nearest PCVs, Tara and I were on lockdown together in my apartment. It almost felt like blizzard season again, storing potable water, perishable and non perishable foods and toilet paper (I think having spent so many summers in Hawaii I had 'stocking up on toilet paper' 1st on my list of things to do). So as Tara and I buckled down for 'lockdown 2005' we were allowed to borrow quite a treat - the complete series of 'Sex and the City.' Having never watched a single episode before I had a full 4 day marathon of every episode. For a moment it almost seemed strange as to why one would not be pre-occupied with the thought 'Which Manolo Blanc shoes should I buy today?' All in all the lockdown was good. Nothing terribly serious happened in Mombasa and I felt safe as my supervisor took responsibility of Tara and me, checking on us daily and even chauffeuring us over to his house for an evening of DSTV (Digital Satellite TV) while we made fajitas.
Luckily, after 5 days of 'serious lockdown' we were allowed a 'more loose lockdown' for Turkey day and escaped the confines of my apartment. The new constitution was rejected (which was how the majority of the people on the coast voted) and thus the huge riots that some people thought might happen, didn't. Turkey day was hosted at Linda's (another PCV on the island) house. The food was amazing (of course) and we even had Lexie (a PCV from about 2 hours away) bring down a turkey from her site. Poor Lexie, bringing a live turkey on a matatu - I feel honored to actually know a person that has brought their poultry onto a matatus.
December
Winter Holidays
For the December holidays I again had a slew of people over (thankfully no tsunamis to ruin our coastal vacation). Good PCV friends, Katie, Terresa, and Wendy were all here for almost half of December. While I still had work at Tuonane Project the girls took the opportunity to relax and shop around Mombasa, relishing in the 'city life' for a while.
Christmas dinner was with all the PC 'Coasties' at a restaurant on the beach, il Colvo. Our fare? Sushi and Italian food of course. Who doesn't have Sushi and Italian food for Christmas dinner!?!
New Years was a nice big break as I headed up to Lamu for the week. One full week of amazing food, sun, swimming and shopping. Lamu is a beautiful, historic, traditional Swahili island on the northern coast of Kenya. It was so magical that I even ate some fish (and liked it). First vegetables…. Now fish…. Who knows, maybe I'll even be eating natto by the time I'm through with traveling.
New Year's Eve was spent on the beach (fireworks supplied by the Prince of Monaco) followed by an all-night beach party. With women dancing in their full ninja bui-buis up on the walls of the club (like a go-go dancer but fully covered) to the fishing captain wearing some poor women's (lost) shoes, to our sinking-boat ride home, I'd say our New Year's Eve was quite a success.
January
Peace Corps Meetings:
DPS (Diversity and Peer Support) met and we decided that even though we now have lost half our group to medical separations (how is it that the all the peer supporters have been medically separated?) we will continue on with our scheduled events, a major one being our DPS training for the 1st year group (so that they, in turn, can help the newest training groups that come in the next year). The DPS "team" now consists of three, two of us being Massholes (makes for good support, huh?).
ARC meeting
This year ARC has been focusing on a bike-a-thon, which will be a 2 week bike ride through parts of western Kenya with mobile VCT testing, group education messages, school visits, and other community visits. It should be an amazing task, one that many of us can only plan (as there seems to be months of planning involved in something like this) and the newest groups can benefit from.
VAC meeting
Out third VAC meeting of the year went smoothly. Our largest concern was that, in comparison to the year prior, Peace Corps Kenyan's volunteer 'morale' was low. Our solution? But of course, a party. Luckily this is also the 45th anniversary of Peace Corps and thus a party was in-the works for mid-March. Our other idea of taking over the country directors' house for a picnic/party didn't go over as well.
The meeting went well though. Short and to the point, which seems unheard of these days (in which meetings that should be finished in 15 minutes take over 4 hours). I think it may have been a combination of the vice-chair being used to holding meetings in the US in which everyone had to stand up (so as to not waste time), and my non-interest in people talking in circles. There was plenty of down time though, especially as it takes 10 hours to travel one way to Nairobi. Here are a few more observations from my traveling:
When giraffes run they sometimes swing their tail like a lasso
I've become so used to busses driving too fast/ too slow that the guy next to me 'tsk tsk's every time he realizes how slowly the people in front of us are going (and I never noticed once!)
Street boys in Nairobi can be very wise and resourceful as I saw a bunch of them climb into a dump truck to go rummaging early one morning
Teradyctal-like dinosaurs are not only existing in Kampala, Uganda, but now they have also started to move in to the downtown Nairobi area
People take to heart the rumored notion that the national beer's motto is 'Badaala kazi' and not ' Baadaye kazi' ('Instead of work' as opposed to 'After work')
Police, while they may not worry about the motorcycle accident which occurred right before them, may though start to beat a man (from another car that just cut him off in the road) from the policeman's own car.
Newest matatu names: Iceberg, whenever, piano, nostalgia, provakak, cracker, sean price immaculate, daddy yankee, black panther, roots 'n' culture, summit, remix, DVD, the equalizer, penguin, world party, zenith, peerless, graffiti, havoc, my redeemer lives, phat, restoration, the connection bus, treaser, lovesick, blessed, timberland, the primer, Memphis locked, senator, fantasy, heds up, bitmap, Vikings, richie rich, flinstone, conair, music lab, tour de force, big horn, 310 motorin, grit and grind, make a move, onyx, ondopoots, Danielle, thank u jesus, island style, morning joy, we belong together, bachelor, still searching, purple rain, young bull, big captain, lee, lugs, hy line, beach boys, Cuban factor, mr. G, da burning issue, da brain drain, slip & slide records, Anaheim Mighty Ducks, Baby Daddy, Missippi troop, Revolution Triv, Winner, Whoz next now, Together as 1, Sparkling Oasis,
And a poster/calendar I have seen around Kenya for the past year (something for every month):
| | |
| --- | --- |
| How to avoid bad touch: | Avoid being out late, avoid secluded places, keep your physical distance |
| How to avoid peer pressure: | Avoid bad company, be assertive, stick to your decisions, counter with positive peer pressure |
| How to avoid drug abuse/alcoholism: | Avoid going to bars/discos, avoid drug peddlers/users, seek counsel |
| How to avoid love letters: | Do not write love letters, do not accept love letters, seek advice from teachers/ counselors |
| How to avoid sexual advances: | Be firm and fight off aggressors, walk away, keep your physical body distant, call or shout for help, do not accept favors |
| How to avoid pornography and temptations to sex: | Do not believe all you see and hear, avoid bad media, restrict yourself to positive media |
| How to avoid idleness: | Work hard, engage in positive activities, participate in income generating projects |
| How to avoid unprotected sex: | Abstain from sex, be faithful to one uninfected partner, discuss sexuality with a parent or guardian |
| How to avoid rape: | Dress appropriately, avoid secluded places |
| How to avoid multiple sexual partners: | Abstain from sex, seek parental advice, respect and stick to one sexual parners (yes, that's a plural at the end of partner) |
| How to deal with your status: | Visit VCT centre, seek counsel, counsel others |
| After testing accept your status: | Accept status, seek medical advice, eat well. |
Ok. Well, I'll leave it at that for now and start the next email with my cousin's surprise visit to Kenya, and February and March's events….
To be continued…
–back to index–
5/22/2006
So on to more January events….
Baso's wedding
The weekend before my cousin Keala's visit, one of the outreach workers, Koko Baso (people sometimes call him 'Kuku Baso' as he used to steal chickens during his drug-using days) got married to a wonderful girl, Warda. It was cute as Baso works with us at Tuonane Project, while Warda helps out at Reachout Rehab Centre, (which my supervisor started & is the sister project of Tuonane). This was an especially interesting wedding as this was the first one where I was attached to the groom's side. The first night we sat outside of Baso's house while he donned a traditional Arabic wedding outfit, complete with sword. We waited there for about 2 hours (drinking tea and eating Halwa (my new favorite sweet)) and then we escorted him a few blocks away to his new bride's home to 'capture' her and bring her back to his home. Arrival at Warda's house was exciting with 4 foot loudspeakers playing Taarab (traditional Swahili music) and local Kenyan rap music. From there we all split up a bit, some staying, some going back to Baso's homestead, some following the new couple as they greeted other families in town, and some home to bed, like me. Who knew that sitting and then walking to a neighbor's house would take 6 hours!?!
The next night was a bit more of what I was used to. The evening was held at Baso's extended family's house just north of Mombasa. We arrived at around 9pm as this was an all-night event, lasting usually until the early morning. Music and large speakers were present, as well as all the women known to the family. There were a few men there, mostly just friends and co-workers of Baso's, though many of them stayed away while the women spent the night dancing. As usual, the bride was made up so much I could barely recognize her. When I went up to greet her she was so (adorably) nervous. She grabbed my hand and wouldn't let me go, making me sit up on the "throne" with her for a few minutes. As this was not an arranged marriage it was cute to see someone happily nervous about spending the rest of her life with her love, rather than (what I assume is) a different type of nervous about marrying someone you barely know. After tons of dancing, ice cream (what a treat) and giggling with the girls, my night there ended 'early' at 2am, leaving the women to dance, sing and laugh the rest of the night away.
Keala's visit
Sunday and Monday were devoted to 'Operation Find Keala'. I went Sunday evening to greet her at the airport, but she wasn't on her scheduled flight. Of course I panicked and tried calling all the local airlines she was supposed to be on, Nairobi airport (where she was supposed to transfer), and even the head offices of the airlines. Due to security reasons, nobody could tell me if she even ever arrived/boarded/landed at her prescribed locations. There was nothing left to do but wait until the morning to call again as everywhere I tried was closed. Luckily, the next morning as I went to check my email, Keala's husband had just written me an email saying that Keala was delayed due to weather in New York, and that she came in three hours prior to my checking email (most things don't open till 9 or 10 am here)!!! Anyway, I ran over to the taxi stand, saw my seamstresses' husband and together we sped over and collected Keala who was waiting, safe and sound at the Mombasa Airport. What a crazy 12 hours!!!
Luckily our next two weeks together while busy, were not nearly as stressful. After spending a couple days running around Mombasa, visiting the project, going on a dhow (boat) dinner cruise with one of my friends, Taib, and shopping galore, we took off to the north coast to enjoy the areas up there. Our first stop was Rolando's, where I spent my first Christmas. There we met up with 'Uncle Joe' (another Masshole) and his girlfriend. We had a magnificent time there swimming, relaxing, eating wonderful homemade Italian food and hydrating. Unfortunately Keala's visit came at one of the hottest times of the year and so we spent half our night waking up in pools of sweat.
The next day we headed up to Malindi to Uncle Joe's place. Uncle Joe is another PH PCV, who is in his 3rd year here. He's working with Kenya Wildlife Service on different irrigation and animal projects and - get this - lives AT the marine park. Thus when we head over to his house we say we're going to 'Uncle Joe's Aquarium'. It's that nice. So from Rolando's, Keala and I headed up to the next town, Kilifi where we met Terresa (a PH PCV from my same training group) and then we all got into the next matatu heading to Malindi. On the way there Terresa, Keala and I had a great time talking and sharing stories of Kenya, New York and our respective lives. At one point during the ride though, the conductor had trouble with the sliding door, which seemed to be stuck. Before I could say, "You know Keala, sometimes the door even falls off"… the door fell off. Luckily we didn't have to be anywhere by a certain time so we didn't mind the half hour it took to tie the door back on with some extra rope they had lying around.
Malindi itself is a beautiful area. Lots of Italians, both tourists and residents, and it's known that many of them (upwards of 70%) are HIV positive. It seems like such a different culture where these Italians' lives seem so fatalistic and almost not existent. Much of our time was spent relaxing at the beach. We never did get out to the reef, but had a great time playing near the shore, especially during the night when the phosphorescent organisms light up the water. Malindi even gave us (as by the time the weekend wore on there were about 10 of us Peace Corps Volunteers hanging out together) the opportunity for a night out of dinner and dancing (Italian food of course… yumm, gnocci!). I think it was that night that I realized the grubbiness that is Peace Corps when, during dinner, one of the guys we were with asked me for a strand of my hair because he had something stuck in his teeth and wanted to use my hair as floss… that and the fact that I had actually ALREADY tried that myself (but only when I'm not around other people!).
From Malindi, Lexie (another PCV on the coast), Keala and I traveled down, past Mombasa, to the South Coast, specifically Diani Beach (where Brad Pitt and Anjolina Jolie (sp?) frequent). There we stayed with Val, who was formerly Peace Corps but then decided that all those rules and regulations weren't for her and she left it. When we arrived I understood why both Peace Corps and her thought it best that she leave. Her original house was a mud hut thing which didn't boast any luxuries. Her current home is a two storey house with a loft, fans, hot shower, flush toilet, TV, DVD, refrigerator, stove, and oven. Talk about luxury. Unfortunately this beautiful house that she found was not actually IN her community, and thus Peace Corps didn't allow her to stay there. Which is why she left Peace Corps, but is still in that house and still working with the same organization.
Anyway. Needless to say, us girls had an amazing time in Diani: ocean, food, movies, and conversation. Poor Keala had a few bugs in her stomach during part of that time, but I'm sure she appreciated the indoor plumbing that was available. After South Coast we headed to Nairobi via train so that we could go on safari in the Masai Mara. Sadly, as we were pulling into Nairobi, I got a call from my father saying that my grandmother had passed away in her sleep. It was terribly hard to have something like that happen while you're half a world away, but luckily Keala and I had each other and we spent a lot of time recounting good memories and reassuring ourselves that Grandma had passed in the best way possible, with both of us together in Kenya, her at home in Hawaii, and in the most peaceful manner possible. As we arrived in Nairobi we were perplexed as to what to do, but we thought that what would be best was for us to continue with our plans. At least we were together, which is something that we know Grandma would have wanted for us.
The safari itself was … well … I should have known. I did book a 'budget' safari, but I didn't think that it would be SO budget. Apparently budget means, canvas/army type tents, cold outside showers in cold weather, spaghetti type dinners (though the sauce wasn't quite a marinara sauce - more like watered down ketchup), limited electricity and (the kicker) bed bugs. Yep, our first night there Wendy (another PCV that, while not close in distance is a good friend) and I had bed bugs infest our tent. Thus in the middle of the night after hours of wondering what was crawling on me, Wendy and I snuck into Keala's tent and slept together on the single bed there. Certainly not a fun night…
The animals on the other hand, were great! We saw all the quintessential 'Lion King' animals; lions, elephants, warthogs, antelope, giraffe, cheetahs, Pumba, Nala, Simba, Timon, Rafiki and all those other creatures. "Rions! Rions! Rions!" were the favorite of the Chinese tourist that was with us in the safari vehicle, while Keala, Wendy and I all decided that the elephants, cheetas (or cheetos as some say), and giraffe were the best. After three full days of driving all around the Masai Mara we headed to Nairobi. Keala and I decided that after the last 4 days of trials and heartbreak, our grandma would have wanted us to splurge and treat ourselves to the comforts of indoor plumbing and clean bug-free sheets. Thus we decided to stay at The Stanley (one of those hotels where the MPs of Kenya might frequent). After a bit of haggling to find a room that wasn't occupied (they first gave us a room complete with a couple tourists), we settled into a wonderful, comfortable, air-conditioned, TV included room. After the road into Narock (hills and dust), we were covered in a thick layer of grime, and we needed showers BADLY. Guess what… NO water. Not even cold water. Thus, about 2 hours after arriving Keala and I were rationed one bucket of hot water to share from the kitchen. I guess no matter where you are you should be ready for a bucket bath…
February
While still in Nairobi, Clem (the former Crisis Corps volunteer whose position I took over) informed me that the Tuonane Project was no longer a USAID - PEPFAR funded project. Something had happened and USAID pulled their funding. Luckily, UNODC decided that the project is important, and, as it was headed under their agency, that they would find the funds to keep it (and its data outputs…). Thus 'The Big Divorce,' as everyone calls it, happened. Things are fine now, a few small tiffs between some individuals, but nothing too major. So now our project is completely funded by UNODC while USAID/PEPFAR is spearheading a project like ours in other parts of Kenya.
February also brought a closer relation between the US Embassy and our project as we had a special visitor, Imam Abu Qudr from San Francisco (an Imam is a religious leader in Muslim society). Imam Abu has NGO working on same types of drug abuse and outreach programs, which made him an amazing resource for the project. Especially for his expertise in Milati Islami, which is a Muslim version of 12 step programs. It was an interesting visit as it was good for people to meet African-Americans who are also Muslim. The weeks with the Imam were entertaining and educative, although I did have some trouble at one event (one of the only events that women were able to attend) when all the women were forced to move from the seats they were in and sit on the other side of the room on the floor since 2 men wanted to sit down… But! This is the type of 'cultural experience' that, while I may not agree with it, is not something that I'm able to intervene in at the time without upsetting some highly respected members of the community. Don't worry though, I did discuss it with some of the other, younger, women that I was with (and some of the men too!).
One of the weeks in February was filled with lots of fun PC volunteer related events. A medical session with some of the Peace Corps doctors led to a wonderful lunch, treated by the doctor, at one of the local Swahili restaurants, Island Dishes (a popular hangout for us PC folk). Then, a bunch of us went to Shanzu, which is the site of a former PCV where disabled girls do handicraft work to produce cloth bags, totes and some clothes.
The last event, Valentine's Day was a 'Girls Only' event where Lexie invited us all out to Samburu (about 2 hours away from Mombasa) for dinner. Our day was supposed to start at 10am as Jen (a deaf education volunteer on the south coast) and I were to meet Linda (a deaf education volunteer in Mombasa) at 9.30 sharp at the matatu stage. Unfortunately due to both assimilation to coast time and traffic, Linda didn't arrive until about 11:30. No matter, we just hopped on the next matatu headed that way. As we alighted, Linda's shoe broke. Now Linda is a Hatian-American and many times is guessed to be Kenyan by many Kenyan nationals. As we went to go try to get Linda's shoe fixed (Lexie's house is about 3k away from the road) we approached a group of old men talking in a group while the shoe mender worked. Linda went up and pointed to her shoe, mumbled something (as she works with deaf children she hasn't learned much Swahili) and then the men started asking her all these questions in Swahili…to which she turned me to say 'What did they all just say?' To which the men started mumbling "What?… She doesn't know Swahili? …Why is she asking that white girl what we're saying?… Did she not understand?… Speak up!" I guess it probably did look a bit silly, an Asian American translating for (what they thought was) a Kenyan woman who was really a Hatian American, while another blonde-haired blue-eyed American helped Linda and I figure out what was wrong with her shoe so that I could tell the shoe mender in Swahili. I'm pretty sure that we definitely confused those poor old men!
Anyway, after arriving at Lexie's house, about 4 hours late, we relaxed a bit and then started on dinner/lunch. Lexie was very ambitious and even bought a chicken to cook. Well…our lunch/dinner was quite scrumptious, but it was the preparation that was the best part of the meal. Lexie, being the awesome girl she is, decided that not only are we going to buy a chicken and eat it, but that she'd do the slaughtering…. And a slaughtering it was. Actually, it was almost murder the way it went.


Poor Lexie, I don't think I'll ever let her live it down. (You may want to skip this part if you're squeamish… but really it's a bit hilarious.) Lexie got the chicken down onto the ground outside (she had already checked the sharpness of the knife and it seemed up to par for the job…) and then held it down with her hands and knees (it's hard to wrestle a chicken to the ground!). While it didn't look the most professional, Lexie was able to start the slaughter. Start… but not finish…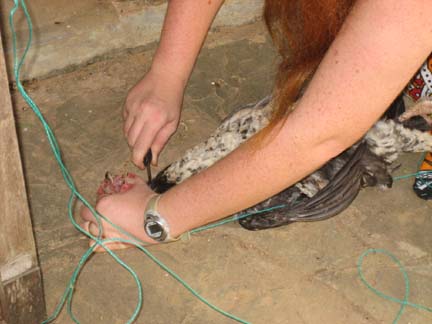 Unfortunately, the knife that she thought was sharp was not sharp enough for this chicken and mid-way through the cutting she had to run to get another knife. As the chicken had stopped squirming (but its eyes and head still looked around and its heart was still beating) we had assumed that Lexie had somehow paralyzed the bird by damaging its neck.
So, with the new knife she started again, only to find that the bird was NOT previously paralyzed, it was just in shock. The bird started flapping its wings and pulling himself away from Lexie.


Finally Jen (Brave, Brave, Brave Jen) came in to help to hold its feet. Apparently this didn't do much as she was then steered around in circles around like a motorboat by the chicken flapping its wings against the ground. Finally a solution was found - Jen held both the legs and wings while Lexie worked on the neck - and we defeated the poor chicken.
It was a hilarious event. Hysterical really. In fact, I think all of us were laughing/crying by the end of the ordeal. So goes life as a Peace Corps Volunteer. It was good though…. The chicken I mean.
Our ride back to Mombasa was almost as hilarious as the chicken event, but drawn out over three hours. As Jen, Linda and I left Lexie's house around 8pm, we missed most of the matatus that would run back to Mombasa, so we decided to try and hitch a ride with any of the cars going by. Eventually, a double tractor-trailer truck came by and the three of us climbed into the back of the cab. Unfortunately the truck was overloaded with cargo and couldn't go faster than 15kph. So, what should have taken 30 minutes took about 3 hours. It was unfortunate but hilarious as we could barely communicate with these men who seemed to know no Swahili and only knew their native local language. Once we got to the nearest town we politely thanked the guys for the ride, but said that we had to get back to Mombasa eventually, and by eventually we didn't mean the next day. Our last ride of the night was wonderful. We got back in record time and Jen even got to be the 'conductor' (the guy who coaxes people to ride in that matatu and collects the money) when our conductor dropped off the matatu early (it was their last trip of the night).
So my Valentine's Day wasn't exactly 'eventful' in the romantic sense, but quite eventful in others. I did get a Valentine card though, two days after the 14th, from some guy I pass everyday on my way to work. He just handed this card to me as we were passing each other on the road. No words were exchanged. Just a handoff of the card. Inside was a 2 page letter professing his love and quoting everyone from R. Kelly to Shakespeare. It was quite possibly the tackiest-but-sweet thing I've ever seen. He even said something to the effect of 'My love, the woman that passes with a smile everyday, I am sorry I don't know your name, would you please do me the favor of writing it for me and I will be forever your slave." Yep. The cheesiest letter I've ever received. Unfortunately, the guy that it was from is the Kenyan version of Saturday Night Live's 'Pat' character. Really, he has the whole outfit/glasses/physique/shape that is exactly 'Pat'. So, needless to say, two days later, upon meeting him on my way to work, I said a polite 'thank you' and a 'no thank you'. Oh well. I'm glad I can still stand to be a bit choosy.
March
March was a busy time as half of it was spent in Hawaii (and readying myself for the trip). While traveling to Hawaii was not exactly 'fun' it was nice to see the clean airports and Kraft Mac'n'cheese. Oh yes, and family and friends too!
After arrival in Hawaii (where I got a big 'Welcome back stateside, wahine!" from the Customs officer in Seattle) I was able to spend a lot of time with family doing all sorts of 'family' type things. Dad also met me out there for the duration of my stay, which was really nice. I also got to see lots of friends as they flew in from outer islands and the mainland. Laura and Chelsey from Pitzer College came out from Maui and the Big Island, while Siobhan and her friends were on spring break from USC Med. I also got to hang out with Keala again (Yea!!) and meet her long-time friends, Jason, his family, and his friend, Justin. It was SO great to hang out with Keala in a place where we're so comfortable!
Grandma's ceremony was wonderful. It was the 100th day after her death, which is a special day for the Buddhist religion. I had never attended a Buddhist ceremony, so it was nice to experience it's beauty, melodies, and chanting. The ministers that did the ceremony were also wonderful and translated everything and led the group along in all the rituals that he did.
Other than that Hawaii was relaxing. Lots of cleaning up Grandma's house and packing/re-packing and organizing, which was fun since I didn't have to worry about hand-washing clothes, where we'd find our next bucket of water, and not boiling the water before you drink it.
I thought it would have been harder to leave the US than it was, maybe it was since I only had 4 months left of Kenya though.
As I arrived back in Kenya I went straight back to work with the project. Since I was in Nairobi though, I spent a few days at the UN complex at the UNODC offices helping them with running the Nairobi component's data analysis. Four days after returning there was a big Peace Corps party for the 45th anniversary of the start of Peace Corps. It included an afternoon at the International school with swimming, softball and a picnic lunch, and then 'Peace Corps Prom' which included a Boston gathering (the 3 Massholes from my PH group and Uncle Joe) as I brought back a six-pack of Sam Adams so we could toast to the Red Sox's winning of the World Series in 2004.
April
April brought our last VAC meeting, which was quiet and nice. Luckily there was nothing much to say, which is good. One of the topics that we discussed a bit though was 'Respect' as there had been an incident where a volunteer was rude, degrading and downright disrespectful to one of the staff of PC Kenya (a Kenyan national). Unfortunately I think that type of stuff happens all the time, and I think all PCVs are guilty of at least thinking it in many situations. It's the whole idea that 'our way is better' or 'superior' to another. In any case, this volunteer took their anger and resentment out on a staff member and VAC addressed it as it was totally inappropriate behavior and not something volunteers condone (some volunteers were there when the incident happened and were just too scared/shocked/felt too helpless to intervene). I think the issue was addressed properly as VAC didn't apologize FOR the volunteer's behavior, but stated that it was certainly not OK for that volunteer to act in such a way, and that we as volunteers don't condone that type of behavior.
During the pre-VAC meeting (only volunteers and the Country Director, Bob), Bob mentioned something about his living all alone and only eating TV dinners. All of us in VAC really felt sad for him as he seemed to be quite lonely. Thus, the day after the VAC meeting almost the whole VAC group (minus myself and one other who had to return quickly back to site) went over to Bob's house to cook dinner and have a relaxing evening with him. Personally I felt this was a great step in increasing volunteer-Bob relations, which have been strained in previous years. It's kinda nice to know that during the year that I chaired VAC we made so many accomplishments. Even though they may have been small, and no major reforms were made, we never fought with the PCK office as did many other VACs in the past, thus improving not only relations with Bob, but with the whole of the PCK office.
Due to all the good work at a prison outreach program that the Tuonane Project workers did, we had a beach party to celebrate our accomplishments. It was a wonderful day full of ocean, food and fun. The women of the project made biriani (which actually went bad by the time we ate and on Monday half the project team was sick in the restroom), which was fantastically yummy. As for the ocean and swimming events, two other male outreach workers and I swam out to the outer reef (I was afraid that my supervisor might have thought that to be a bit risqué (with two other males) but he seemed to not have any problems with it - which was good since they were the only other strong swimmers (most of the women couldn't swim)) while the rest of the events occurred much closer to shore where everyone could stand in shallow water. All in all it was a great bonding time for the whole team, and a much-needed break from all the hard work they've done.
The next big event was training people to be Diversity and Peer Supporters. On the train to Nrbi I actually ended up meeting a couple from San Diego who were good friends with my cousin, Julie (Julie is a cousin from my father's side who went to Pomona while I was at Pitzer). It was great fun to meet someone who knows Julie and her husband Jon, and I had a great time hearing about 'home' from a seemingly random couple on a train in Kenya.
Unfortunately, the rest of my week in Nairobi wasn't nearly as nice as I ended up getting really sick with high fevers and aches and pains. In fact, I knew I was really sick when I realized that I even didn't want to eat (I ALWAYS eat!). Thankfully I was staying at Upper Hill campsite, which is a backpacking hostel which my friend Steve and I decided to meet at in order to prepare for the training (Steve is one of the MA kids in my PH group). By the last few days there I was feeling a bit better and even went with Steve to visit his friend who had been shot while being an aid worker in Sudan. She was such an inspiration to see, stuck in her hospital bed but excited about returning back to work (the bullet went right through her thigh without hitting anything major). It was nice to be there for Steve while he was all worried about his friend, especially after all he had done for me while I was sick. In fact, Steve was my 'waterboy' for the week as I couldn't get out of bed to even get/clean water (both at Upper Hill and then later at the training).
DPS training was relaxed and went well. Steve Dickey, Lexie, Kimberley (another girl from the Deaf Education sector) and I all taught. We trained about 25 1st year volunteers to be peer 'supporters' to help other volunteers with the stresses of being a PCV. It's a neat program that is really appreciated by PCK, especially for helping medical situations out when and where we can. After the training I traveled right back to site. I felt I had been away from Mombasa for so long that I just had to get back. Also, while I was away doing DPS training, Mwanahamisi Ziro (a good friend and a VCT counselor) passed away from complications with AIDS. It was hard to see the team again after such an event. Everyone was so down and sad, although at the same time there was this feeling of 'Well, life just keeps continuing'… It was a bit strange to not dote on the passing of someone as we seem to do in the states.
COS conference
2 days after returning to Mombasa from DPS training, I headed up to Naru Moru for COS (Close of Service) conference. COS was…interesting. There wasn't any drama, which we all thought would ensue, so that was a nice surprise. We had lots of sessions on how to leave the community we're working with, how to readjust back to the US, and how to start the job hunt. By the end of the conference some of us had discussed that it seemed like many of the 'gung-ho' volunteers who thought they'd save the world towards the beginning of their service were those that seemed most 'beat down' by Kenya, while many of us that allowed ourselves to take things slow and not assume that we'd make any huge changes seemed well adjusted and, while sometimes frustrated, happier overall. We did have some fun relaxing time while we were there including beer and campfires (in which I sat IN the big fireplace) in the evening (I was FREEZING there - it was right next to Mt. Kenya), walks along the Naru Moru river, and catching up with volunteers that I haven't seen since last October. Bob even came out to our conference and said something nice about each member of our PH group. It was nice that his comment of me surrounded VAC and how he thought that VAC had done more this year than in all the past years.

Well, that's about it for now. I'll make sure to keep May, June and July in the next update… maybe it'll even include some tidbits about re-integration back into US society.

As always, sorry about the improper grammar and spelling - I really must get back into the habit of typing proper sentences!

For those of you that don't know, I'm headed out of Kenya on the 21st of July. I'll be spending 4 days in Amsterdam with Steve Dickey on an extended layover, and then we'll both head back to Boston on the 25th. Sounds like my first weekend is already planned for me, but most of August is free… so some of you might see me around (or keep updated for a big back-in-the-US-bash).

Can't wait to see you all!!!
Love and aloha,

Lei –back to index–